HIGHLY STABLE AND EFFECTIVE ANTIOXIDANT AND SKIN FIRMING SERUM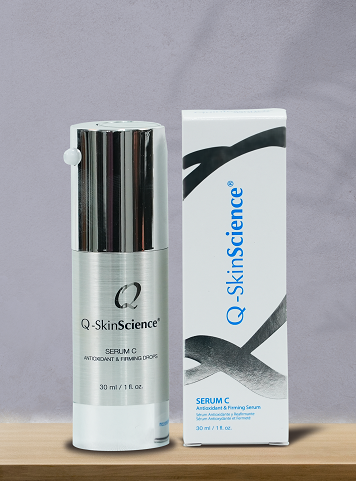 QSS Serum C is a light topical antioxidant and firming serum containing vitamin C in the form of stabilized L-Ascorbic Acid, the only form of vitamin C that can be directly utilized by the human body.
Use of specialized reverse emulsion manufacturing technology.
The L-Ascorbic acid is suspended as liposomes with glycerin in the oil phase to prevent contact with water.
A proprietary oxygen-free manufacturing process that allows optimum potency of the ingredients.
Nitrogen is infused in the mixing tanks to eliminate all oxygen, minimizing oxidation and degradation of the formula and guaranteeing the stability of the product for maximum effectiveness.
L-Ascorbic Acid.
Cucumber Extract.


– Cucumber Extract help to remove impurities, reduce oiliness and refine and minimize the appearance of pores.
It has pH of 3.5 which ensures the highest absorption when applied topically over the skin.
Stimulates collagen production, improving skin tone and elasticity.
Helps protect against UV radiation.
Inhibits tyrosinase.
Brightens & lightens the skin.
Highly stable & effective antioxidant & skin firming serum