U.R.T.O Shampoo and Lotion
UNIQUE REGROWTH TREATMENT OPTIMA – A NEW APPROACH TO TREAT HAIRLOSS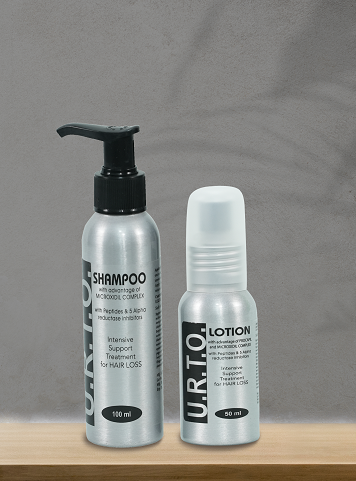 Unique Regrowth Treatment Optima (U.R.T.O.) is a unique approach to treating hair loss using Biomimetic peptide that helps keep the scalp healthy which is the secret to consistent hair growth.
URTO Shampoo – 100ml
URTO Lotion – 50ml
Hormonal
Environmental
Genetic
Medication
Intense hair loss prevention treatment.
Nourishes hair follicles.
Maintains scalp in optimal health.
An innovative complex of highly active ingredients.
Encourages micro-capillary circulation.
Stimulates growth of hair follicles.
Potent DHT inhibitor.
Biomimetic peptides & organic resources control 5-Alpha Reductase.
Complex of Biotinyl Tripeptide-1, Apigenin, Oleanolic acid, Caffeine, Biotin.
Rich in many natural actives –


1. Panthenol




2. Hyaluronic acid




3. Ginkgo Biloba




4. Eucalyptus extract